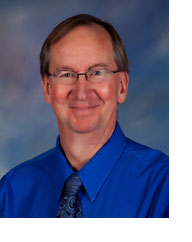 Dr. Bradley P. Gilbert
Chief Executive Officer,
Inland Empire Health Plan
Dr. Bradley Gilbert was appointed chief executive officer of Inland Empire Health Plan (IEHP) in October 2008. Since the organization's inception, he has played a pivotal role in guiding IEHP to its place as a nationally-recognized leader in public healthcare. As one of the largest public not-for-profit health plans in California, with more than 804,000 members, Dr. Gilbert is leading IEHP into the healthcare reform era.
Dr. Gilbert launched his career at IEHP in 1996 as chief medical officer, developing a Medical Services Department and helping IEHP qualify for a Knox-Keene state licensure. Later, he served as executive officer, responsible for medical management, operations and contracting/network management, marketing, human resources, and compliance.
His focus on the health and well-being of members has given IEHP coveted recognition. IEHP was the first Medi-Cal HMO in the state to earn National Committee for Quality Assurance (NCQA) Accreditation, the nation's leading quality monitoring organization of health plans. In addition, IEHP was among the first health plan in the nation to earn NCQA Accreditation for Disease Management. Under his leadership the organization developed a multi-faceted and multi-disciplinary Wellness Program, to encourage members to live healthy lives and prevent illness. These efforts have earned IEHP a #1 and #2 ranking in California for America's Best Health Plans in 2008 and 2009.
During his tenure, IEHP has become a major presence in the Inland Empire. In a two-year span, IEHP's membership has increased 25%, while maintaining stability and quality of care. To support this growth and strengthen the safety net, Dr. Gilbert has built a formidable IEHP provider network, including more than 750 primary care physicians and 1,500 specialists.
Dr. Gilbert is also a healthcare industry leader at the state level. In 2010, he was appointed as a board member of the California Association of Health Plans (CAHP), an organization representing 39 California plans. In 2011, he was appointed chair of the CAHP State Programs Committee. Dr. Gilbert is a member of the Board for the Local Health Plans of California (LHPC), and was a member of the Medi-Cal 1115 Waiver Stakeholder Committee – a committee that helped shape the 1115 Demonstration Waiver in California, which funds hospitals and care for the low-income. He is a board member of the California Association of Public Hospitals (Safety Net Institute). Additionally, Dr. Gilbert is the chair of the Inland Empire EHR Resource Center, which is part of the Inland Empire Health Information Exchange.
His strong track record in the public health industry began as the Director of Public Health/Health Officer for Riverside County; where he gained insight into the healthcare challenges that Inland Empire residents face. He was responsible for 11 primary care clinics, assigned to special projects in managed care – including participation in development of an IPA and medical liaison to manage care contractors. He supervised communicable disease control, certain environmental health monitoring and public health protection for the county.
Dr. Gilbert attended the University of California, Berkeley, where he earned his bachelor's degree in physiology/anatomy. He received a medical degree from the University of California, San Diego and a master's degree in public policy from the University of California, Berkeley. He is Board Certified in General Preventive Medicine.